As we age, our bodies change, and so do our needs. When it comes to home renovations, many seniors need to modify their bathrooms to make them more accessible and safer. However, bathroom renovations can be expensive, and seniors on a fixed income may struggle to afford them. Fortunately, there are ways to save money on bathroom renovations without sacrificing safety or comfort. In this blog post, we'll share some practical tips and ideas on how seniors can save money on bathroom renovations and enjoy a safe and comfortable bathing experience.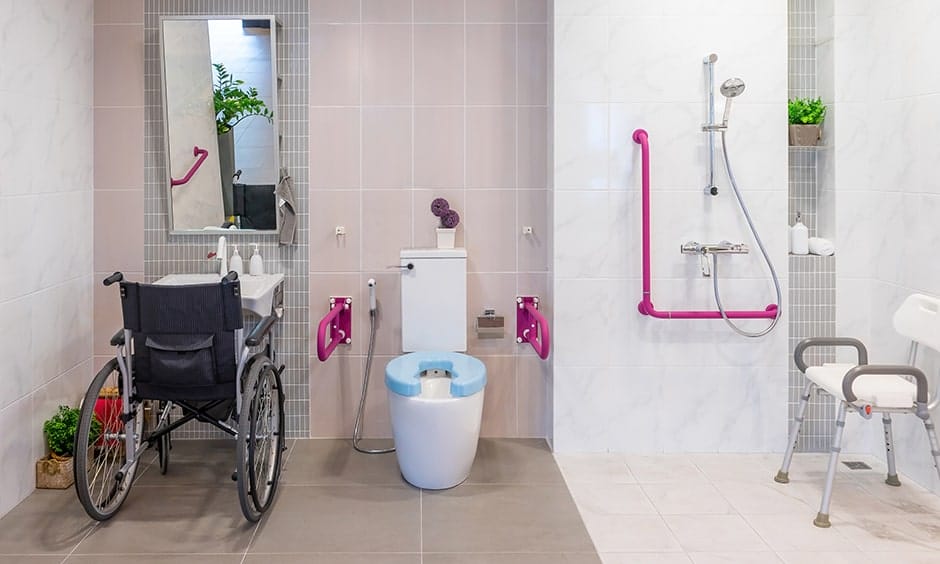 1. Make Sure The Toilet Seat Is Raised With Arms
One of the easiest and most essential things to consider when renovating a bathroom for seniors is to make sure the toilet seat is raised with arms. This simple modification can make a tremendous difference in the ease and safety of using the toilet. A raised toilet seat with arms provides more stability and support when sitting down and standing up. It also reduces the distance that seniors have to lower and raise themselves. Additionally, using a toilet seat with arms can prevent falls, which is crucial for senior safety. By making this change, seniors can maintain their independence and dignity in the bathroom.
2. Make Cleaning Easier – Install A Bidet
Another way to make bathroom cleaning easier for seniors is by installing a bidet. Not only does it provide a soothing, gentle spray that can leave you feeling cleaner, but it can also save on toilet paper and reduce waste. When considering a bidet, you'll need to decide between a wall-mounted or floor-mounted option. Wall mounts can be easier to clean, while floor-mounted options may take more time for maintenance. However, a bidet seat can be added to your existing toilet for a simpler installation. With a bidet, seniors can feel more confident and independent in their bathroom routine.
3. Install A Bathtub With A Seat And An Easy Entry Door
Another great bathroom renovation tip for seniors is to install a bathtub with a seat and an easy entry door. This feature provides a safer way for seniors to bathe without the fear of slipping or falling. The seat allows for comfortable and secure seating during bathing, and the easy entry door ensures that seniors won't struggle to step over the tub wall. This renovation also allows for a more luxurious experience for seniors because they can finally enjoy the benefits of soaking in a tub without the fear of hurting themselves. This renovation, paired with other safety features discussed, can create a bathroom that's not only safe but also comfortable for older adults.
4. Use Bright Lighting
Another way to save money on bathroom renovations for seniors is to use bright lighting. Adequate lighting is essential for seniors to avoid falls and accidents. Installing LED bulbs can help save on energy costs while providing bright illumination. To create a bright, airy look, consider outfitting the bathroom with lots of shimmering reflective surfaces. Mirrors can also be strategically placed to make the room feel more spacious. Overall, ensuring enough light in the bathroom can improve senior safety and enhance the overall aesthetics of the space.
5. Make Sure Toiletries Are In Reach
Another important consideration when renovating a bathroom for seniors is making sure that toiletries are within their reach. This can be easily achieved by installing a vanity or storage unit with shelves at a lower height than traditional vanities. Additionally, using clear containers or baskets can make it easier to identify and access different items. It's crucial to keep in mind that seniors may have limited mobility, so making sure that toiletries are stored in a convenient location can help them maintain their independence and reduce the risk of falls. By taking simple steps such as this, caregivers and loved ones can make a truly meaningful difference in the lives of seniors.
6. Slip Proof Rugs In All Areas That Can Get Wet
Slip and fall accidents in the bathroom are common, particularly for seniors, and can lead to serious injuries. One simple and cost-effective solution to prevent falls is to place slip-proof rugs in all areas that can get wet, such as near the shower or bathtub. These rugs can help seniors navigate the bathroom with ease and confidence, as they provide a stable and slip-resistant surface to stand on. By reducing fall hazards, slip-proof rugs can help seniors maintain their independence and avoid costly hospital bills. Along with other bathroom renovations for seniors, such as grab bars and bright lighting, slip-proof rugs can make the bathroom a more comfortable and accessible place for seniors to enjoy.
7. Curbless Showers Increase Senior Safety
Curbless showers are a fantastic investment for any senior who is looking to make their bathroom safer and more accessible. By eliminating the tripping hazard of a step-up shower or bathtub, curbless showers make it easy for seniors to move around safely. They also make it easier to clean the bathroom floor by removing the need for a raised edge. Installing a curbless shower not only increases senior safety but also adds a level of modernity and cleanliness to a bathroom. Plus, with different types of curbless showers available, including ones with added features such as hand-held shower heads or built-in seating, seniors can choose a design that fits their unique needs. By combining the installation of a curbless shower with other modifications, such as grab bars or anti-slip mats, seniors can create a bathroom that is not only safe but also functional and enjoyable to use.
8. Install Level Faucets For Easier Use
When it comes to making bathroom renovations for seniors, it's important to consider the functionality and ease of use in every aspect of the bathroom. That's why installing level faucets is a crucial component to consider. Level faucets are designed to be easier for seniors to use, especially those with arthritis or other mobility issues. They allow for better grip and control, which can make turning the faucet on and off a breeze. This seemingly small change can make a big difference in the overall accessibility of the bathroom. By incorporating level faucets into your senior bathroom remodel, you'll be creating an environment that not only looks modern and updated, but also promotes safety and independence for your loved ones.
9. Non-Slip Bathmats
To ensure the safety of seniors in the bathroom, non-slip bath mats should be placed in all areas that can get wet. These mats provide better traction and prevent the risk of slipping and falling. Additionally, installing curbless showers and adding safety rails and shower benches can make a significant difference in senior safety. It's best to consider the different ways to make senior life easier and safer, without spending a lot of money.
It's essential to keep in mind that a proper bath mat is an important bathroom safety accessory for seniors. Some of the best non-slip bath mats on the market have TPR backing to help them grip your floors and prevent you from slipping when you step out of the shower. Moreover, memory foam and luxury bath mats can create a plush underfoot experience while quickly soaking up water. These can be a great addition to your bathroom, providing comfort and functionality while giving seniors the support they need. With these simple updates, you can create a bathroom that is safer and more enjoyable for seniors.
10. Install A Safety Rail In The Bathroom and Bathtub
Installing a safety rail in the bathroom and bathtub is an essential safety measure for seniors. The rail provides a sturdy support for them while getting in and out of the tub or shower, reducing the risk of slips and falls. With the right placement, it can also serve as a support for standing up from the toilet. The safety rail should be installed securely into the wall studs to ensure maximum stability. Seniors who are unsteady on their feet will benefit greatly from this feature, as it gives them added confidence and independence in the bathroom. Coupled with other safety features such as non-slip bath mats and grab bars, a safety rail can make a big difference in the safety and comfort of senior citizens.
11. Add A Shower Bench For Seniors
Adding a shower bench to the bathroom is a great way to make sure seniors are safe and comfortable while bathing. This is especially important for those who have difficulty standing for long periods of time or need extra support while showering. The bench provides a stable surface for them to sit on and shower without fear of slipping or falling. It also reduces the amount of effort required to shower, which can be a significant relief for those with mobility issues. To further increase safety, make sure to place the bench in an easily accessible location and consider adding non-slip features like a suctioned mat or rubber feet. Overall, installing a shower bench is a smart investment for any senior's bathroom renovation.
12. Emergency Phone or Button That Is Easy To Reach
In the pursuit of a safer bathroom renovation for seniors, it's essential to incorporate an emergency phone or button that is easy to reach. This addition can provide peace of mind, knowing that help is just a button push away if needed. There are various phone systems and emergency alert devices available in the market for this purpose, and you can choose one that suits your needs and budget. The installation of such a device can be a valuable addition to your bathroom renovation plan, ensuring that seniors can access emergency help quickly and easily, potentially saving their lives in critical situations. With this simple addition, seniors can have greater confidence and independence in their daily lives.
13. Hot and Cold Labels For Seniors With Dementia
For seniors with dementia, simple tasks like taking a shower or washing their hands can become confusing and overwhelming. Installing hot and cold labels on the faucet can help prevent accidents and make these tasks easier to navigate. This is especially important for seniors who may not be able to remember which faucet controls the hot water and which controls the cold. Adding these labels can make the bathroom safer for seniors with dementia and help them maintain their independence for longer. This is just one of the many small changes you can make to improve bathroom safety for seniors, and it can make a big difference in their daily lives.
14. Easy To Reach Showerhead
Another way to make bathroom renovations for seniors more accessible is to install an easy-to-reach showerhead. This small addition can make a big difference in the comfort and ease of daily bathing. Along with other changes such as non-slip bathmats and slip-proof rugs, installing an easy-to-reach showerhead can help seniors feel more confident and safe in the shower. By considering small, practical improvements like this, seniors can enjoy a bathroom that not only looks great but is also functional and safe to use.
15. Hire A Caregiver To Help With Bathing
The last tip for saving money on bathroom renovations for seniors is to consider hiring a caregiver to assist with bathing. While this may seem like an added expense, it can actually save money in the long run by preventing falls and injuries. Caregivers can provide support and assistance with tasks like getting in and out of the shower safely. In addition, having a caregiver present can give both the senior and their family members peace of mind knowing that there is someone there to help if needed. It's important to find a reputable and trustworthy caregiver who is experienced in working with seniors and familiar with their specific needs. With the right caregiver, seniors can maintain their independence and dignity while also staying safe and comfortable in their own homes.