Watching your loved ones get older and be unable to care for themselves is hard. It can be especially hard if you are the one who has to take care of them. You may feel like you are in a never-ending cycle of taking care of someone who is not able to take care of themselves. It is important to know that there are ways to ease the load and make your loved one's life easier.
Finding home care services that are quality is really hard. Too many companies play "Tetris" and just send whoever is available to your loved ones homes rather than who is the best fit for your home. We have heard horror stories where people have had someone need almost every day or have someone not show and no one came to replace them.
Knowing your loved one is in the best hands will bring you peace of mind.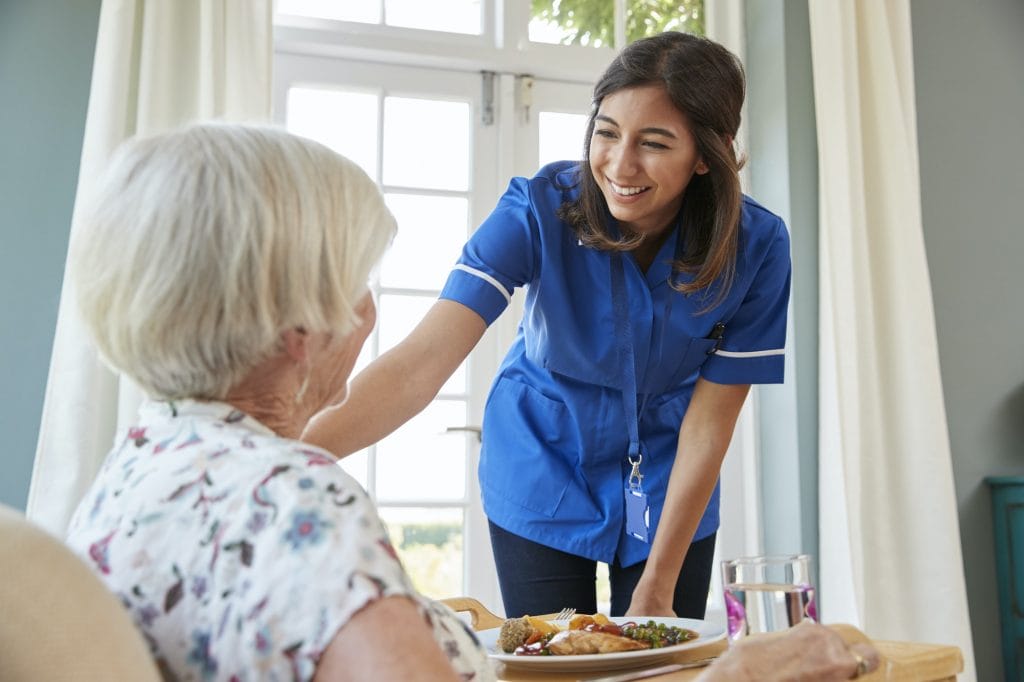 What types of home care services are there?
There are a wide variety of home care services available, including help with housekeeping, hygiene, medication management, meal preparation, companionship and more. Some home care services are specifically tailored to meet the needs of an individual or family, while others can be provided in a communal setting. We only provide you with the best and most caring providers, while still being respectful of your needs. Our nurses will create a comprehensive care plan for your loved one so you know exactly the needs are and what will be done. These types of care listed below will help you where to start.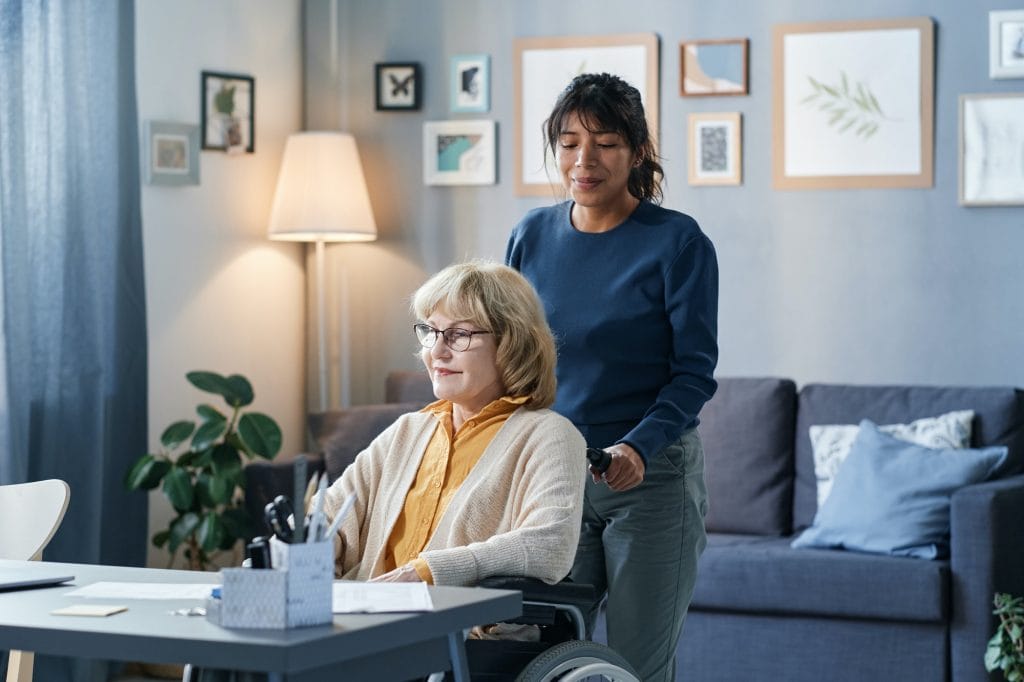 Dementia Care and Alzheimer's Disease Care
If your loved one experiencing dementia, home care may be the best option for you. A caregiver can help with daily activities like bathing, dressing, and eating. They can also provide support during appointments and activities.
Making sure the company and caregivers are trained to care for patients with dementia. People with dementia need caregivers who are patience and understand their struggles. Caregivers who don't take things personally and understand that the person they are caring for might say things they don't mean and it isn't personal.
The healthcare industry is full of challenges and it can be difficult to make a decision. But when you look at different options, such as home care services, factors like Alzheimer's disease may not seem so scary after all – now that you know the facts…
Hourly Home Care Services
We offer hourly home care services for those who need assistance but do not have the time to take a full-time care package. Our professional caregivers will visit you at home, perform necessary tasks such as dressing and brushing teeth, doing laundry, grocery shopping and preparing meals, and provide companionship. We recommend four plus hour shifts as it is very difficult to staff lower hour cases.
Assisted Living At Home
Assisted living at home is an excellent way to keep your loved one as close to you as possible while enjoying a healthier lifestyle. Assisted Living At Home is Compassionate Caregivers Home Care's 24 hour care service. You get round the clock care which normally has 2 caregivers per day. One during the day and one during the night. Your loved one gets personal care around the clock. One of the most common fall scenarios is when a senior wakes up and tries to go to the bathroom at night and is unable to make it safely.
This is why night care is just as important. Especially if your loved one gets up a lot during the night.
Respite Care
What is respite care?
Respite care is short-term care that can help people with a disability or chronic illness to regain some of their lost activities, social interactions, and sense of self. It can help them feel more in control of their lives and get back on track.
If a loved one needs respite care, our skilled housekeepers can provide the needed help. They will arrive promptly and depart when their task is completed. We have had much success in helping seniors living stronger happier lives.
Respite care is not all the same. Respite can vary in time from part of a day to several weeks. Respite encompasses a wide variety of services including traditional home-based care, as well as adult day care, skilled nursing, home health, and short term institutional care.
Post Hospital & Post Rehab Care
There are many benefits to receiving post-hospital and post-rehab care services from a long-term care facility.
Some of the benefits your loved one may experience include:
Enhanced physical, cognitive and emotional health
Reduced frailty and improved overall well-being
Increased independence and mobility
Reduced risk of falls and injuries
One on one care
Companion Care For Seniors
Companion care for seniors is a great way to maintain their independence and safeguard their safety. A companion can be someone they grow to know, and they enjoy having around and taking them places. We try to match all of our caregivers no matter the service based on skills first and matching personalities second. We don't always get it right the first time but we strive to match your loved one with someone they love being around them.
Some common services that a companion may provide include:
Providing companionship and emotional support
Helping with activities of daily living (ADLs) such as bathing, dressing, eating and using the bathroom.
What are the benefits of home care services?
Home care services can provide many benefits for seniors. They can help with basic needs like bathing, grooming, dressing, and cooking, light housekeeping, as well as providing companionship and assistance with activities of daily living. Senior care is dependent on the client as everyone has different needs. These are the standard tasks for everyone. Some people may need more help which is perfectly fine because at the end of the day the clients needs are what is important.
Additionally, home care services can help to reduce isolation and loneliness. Many seniors find it difficult to leave their homes, and home care services can provide a sense of security and community. They also provide a sense of control over their lives and can help seniors feel more in control of their environment.
Aging in place can make aging in place much safer for most seniors, especially when used in tandem with home modifications and assistive technology. In-home care aides can provide the personal care assistance, companionship, and monitoring that one would receive in a long-term care community while allowing them to remain in the comfort of their own homes.
Caregiving is becoming a bigger and important part of family life. Some caregiving can be done at home while other caregiving needs to go somewhere else like in the hospital, doctor or other needs.
Home care services can also help to reduce the need for expensive long-term institutional or residential care. Finally, home care services can help to improve the quality of life for seniors in their own home.
How can I find a home care service that is right for me?
The first step is to determine what specific needs your aging or disabled parent or spouse has.
For example, if your parent has difficulty bathing alone, an in-home aide may be a good option. If your parent needs help with dressing and getting out of bed, caregivers can assist with those tasks as well. Once you have a general idea of your parent's needs, you can look for home care agencies that specialize in providing services to seniors and those with disabilities.
Second you need to find a home care that has experienced nurses on staff. So many companies do not have nurses overseeing the cases. The continuity of care is also extremely important so your loved one can get used to the person or people providing elder care.
Remember: it is important to choose a caregiver who has the right skills and experience for your loved one's specific needs. Some caregivers are considered companions who don't normally have high skillsets but are there to help with smaller tasks and offer companionship for your loved one. Make sure they are professionally trained. At Compassionate Caregivers our Nurse of 30+ years trains our caregivers in the proper techniques to care for your loved ones.
The Difference Between Medical And Non-Medical Home Cares
Medical home care is a type of long-term care that focuses on coordinating services from different professions to help an individual live as independently as possible. These home health services may include medication management, providing assistive devices and activities, personal support, and monitoring vital signs, physical therapy and more. Medical home cares normally provide short hour care like 2 hours per client. Since it is government funded through programs such as Medicare it depends on each client but can be limited and you may not receive the amount of care you need. These services are also known as home care. There is a list of home care providers here. If you use Medicare you will be able to find a home health agency there.
Below will help you understand Medicare and health insurance:
1. Under the health insurance plan, Medicare covers home care services without any extra charge to you if your total charges for all covered health care items and services reach $6,000 per year or more (adjusted annually to inflation).
2. Medicare's reimbursement rules do not require that long-term care insurance plans cover specific types of home health service while they often cover nursing homes' other specialized costs such as skilled nursing facilities and psychogeriatrics; most policies also offer coverage
Non-medical home cares are typically informal arrangements made by family or friends to provide assistance with daily tasks such as cooking, cleaning, bathing and laundry. They are not intended to maintain an individual's basic needs or provide placement in a residential care facility. Non-medical home cares are normally private pay but sometimes also takes insurances like long term care insurance. This doesn't have a limit for how much care you receive. Normally the cases are longer with a 4 hour minimum. Most caregivers don't want to work shifts under that and this will cause them to call off for most companies.
Do I need help with meals and/or personal hygiene if I'm hiring a live-in caregiver?
Meals and personal hygiene is done by our caregivers. Compassionate Caregivers Home Care is a non-medical home care with nursing oversight. This means that we can do all non-medical care but our nurses (RN's) can identify and help with medical needs.
We are here to give you peace of mind and allow you to relax. Taking care of your loved ones can be a full time job itself. On top of all of your other responsibilities things can get out of hand quickly. Having a company there that will allow you to relax and do the things you want to do is so important.
If there is a spouse in the house we also make enough food for them as well. We know that some companies will only allow their caregivers to make food for the person they are hired and not the spouse as well.
Home Care Services Columbus Conclusion
At the end of the day, there is no one-size-fits-all answer when it comes to choosing a home care service in Columbus. However, by consulting with professionals and reviewing the different options available, you can make an informed decision that meets your unique needs. Family caregivers show they care by being there but helping a loved one 24/7 is just hard to do when you have a job and other important tasks to do yourself.
Our amazing staff will be able to answer your questions and relieve a ton of stress that is involved in finding the right company for you. There is a reason we have a 5 star review on Google. Unlike other companies we don't ask employees to give us reviews but we ask our customers. We want to give you a real idea on the level of service you will be getting. Not an employee inflated rating as you see elsewhere.
We also recently won an award from expertise.com for one of the top home care service companies in all of the Columbus area.
If you need help finding a home care provider and want to see what we can do for you just give us a call at 614-710-0078. Our free consultation will be able to tell you what steps you need to take to make sure your loved on is getting the quality care they deserve.